How to emotionally prepare your kids for moving day?
Moving to a new family home is an exhilarating adventure. However, it can also be quite stressful, especially for your kids. They can still not process the move rationally, and it can be hard for them to accept this change. Leaving their friends, changing school, and starting fresh in a new place is a huge deal and can be overwhelming.
Therefore, you need to prepare your kids for moving day to ensure they handle this process in the easiest way possible.
But don't feel hopeless; we've prepared tips to help you organize a smooth process for your entire family.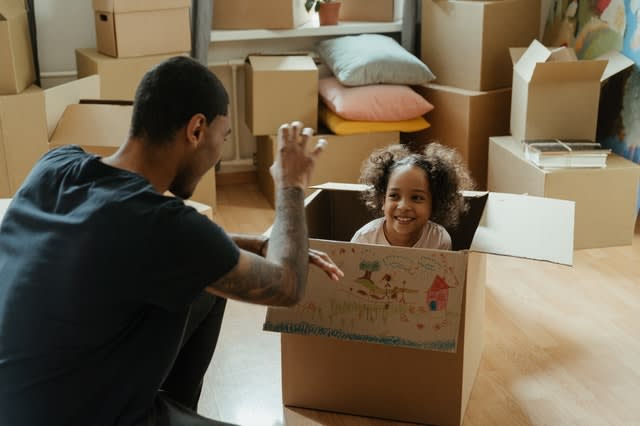 Just thinking about moving can be exhausting. Even when it's a positive change, it can be challenging for your kids to accept it. Therefore, the first thing you need to do is emotionally prepare your kids for moving day. Here's how:
Talk about it - As soon as you decide to move, talk to your kids. It will give them more time to process and prepare for the coming change. Make sure to allow them to ask as many questions as they like; you'd be surprised what kids get worried about.
Acknowledge their feelings - It's crucial to let your kids know that it's OK to feel sad or anxious regarding your move. Even more important is to be there for them, listen, and provide your full support. Remember, as hard it could be for you, it's much harder for your kids.
Let them make choices - Kids want to feel involved, and an excellent way to enable this is to let them help you make different decisions. If possible, they can choose their room, color or plan out its layout.
Choose a good time to move - If you are not in a hurry, choose good timing for your relocation. For example, moving in the middle of the school year can be stressful for your kids. Therefore, the best thing to do is move in the middle of the summer. That way, your kids will have more time to spend with their friends and enough time to settle into your new home and potentially meet new friends. Emotionally, this will make the process that much easier for them.
Organize a "see-you-later" party and make plans for staying in touch
Saying goodbye to their friends is as essential for your kids like you. An excellent way to make moving easier is organizing a get-together and inviting all their friends. However, make sure not to schedule it right before the move as it can turn into a sad event for everyone. That is something you want to avoid. Therefore, think about organizing it 2-3 weeks before moving.
Give your kids a chance to say goodbye to their friends correctly. By organizing a party for them, you'll help them do this in a fun way. The farewell party is an excellent opportunity for you to get all the contacts and help your kids maintain their friendships even after the move. We live in the internet age, so it's easier than ever to stay in touch. Your kids can have video calls with their friends, and you can even organize visits to your old town from time to time. By letting your kids know they'll still be able to "keep" their friends, they will accept this change more manageable.
Surviving the moving day
The moving day is probably the most stressful and chaotic part of the process. You worry if you packed and prepared everything correctly, and you're constantly stressed and feel like you're racing with time. Stop and take a deep breath. Your kids think what you're feeling, making them more anxious and frustrated. Consequently, it will further reflect on you and make you even more stressed. Therefore, try to remain calm and collected.
Hire reliable interstate long-distance movers if you want a relaxed and easy family move. Even if you are in for a long-distance move from one part of Montana to another, two crucial things will help you quickly go through the moving day. First, make sure to hire professionals to help with the logistics and the practical side of the move. Finding reliable movers can save you a lot of time and keep you from getting overwhelmed.
Plus, you'll be sure all of your things will be moved most safely.
Another thing that will massively help you go through the moving day is getting your kids involved. Kids like to feel wanted and helpful, and by giving them different tasks, you'll be able to achieve this. For example, they can help pack their toys or take care of the family pet while movers are loading the van. They can even participate when you're interviewing the real estate agent who will help you find your new dream home and give their suggestions.
Settling in after your move
Now that you successfully moved to your new family home, it's time to unpack and start this new chapter in your life. However, you still need to help your kids go through this transition quickly and adapt to the new environment.
The best way to help your kids adapt to your new home is to continue your old habits and family rituals. For example, if your kids are used to going for ice cream every Friday or going to the movies every weekend, make sure to continue doing this in your new hometown. In a way, this will make them feel as if nothing has changed.
Also, no matter how hard this change was for you, make sure not to show it in front of your kids. Try to remain positive and show how excited you are about buying a new home. Encourage your kids to see good in your new home but stay patient as they'll probably need more time to settle and